A Major New Release of WayMaps
Written 14/04/17
You may remember that back in December we launched our WayMaps mapping tiles which are built from open data from a number of sources put together with our own styling.
Today sees the launch of a major new release of those tiles which includes four really significant changes.
Outer Zoom Levels
We have stopped using the Ordnance Survey's OpenData tiles for the road atlas and country zoom levels, instead we're generating them ourselves.
Relief Shading
We have added relief shading to our mapping. So for example here's how step one of WalkLakes Catbells walk looked before:
And here's how it looks now: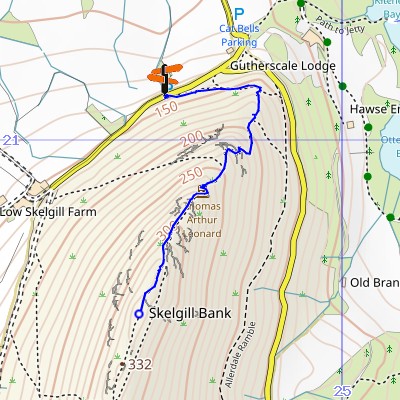 Note the shading on the east side of Catbells which makes the hill shape easier to understand for people who are less familiar with reading contours.
Ireland
We have added the whole of Ireland, both north and south, to the mapping. This includes:
contours, just like on the British mainland (these are generated from SRTM3 data from the Space Shuttle and can be a little "eccentric" compared to the Ordnance Survey contours we use on the mainland but they're still very usable).
height data, so right clicking gives you the height at that location and you can view profiles of tracks and routes, just like on the mainland.
Ireland is still a little bare compared to the British mainland but we're already gathering new features for the next release including trig points, significant hill summits, and long distance paths.
Isle of Man
Although we had previously included the Isle of Man in our WayMaps tiles we didn't have height data. We do now so you also get contours, right clicking, and profiles when planning walks there too.

These tiles are live now on all our mapping sites including maps.the-hug.net, openmaps.the-hug.net, and the WalkLakes GPX mapping application.
They are also available to customers of our tile server. You will find details of how to use them documented here.